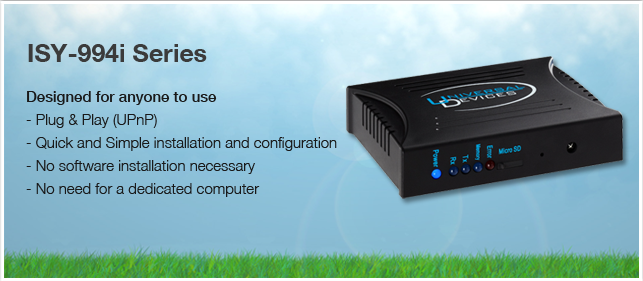 MSRP: $199.00 - $239.00
The ISY-994i series is the most flexible and affordable standalone home automation solution for your INSTEON/X10 installation.
Whether you are a DIYer, an electrician, or a home automation integrator, you will enjoy how quickly and easily INSTEON devices can be programmed through the ISY.
Now available with Z-Wave
Features
An expansion slot which could be utilized to install and support other communications protocols such as a Zigbee or Z-Wave radio
Increased code memory to support additional communications drivers
Native support for OpenADR out of the box
Field Upgradeable/Auto Upgrade
Many new features added regularly via firmware updates
Admin Console automatically notifies you of official firmware updates
Standard ISY994i is field upgradeable to ISY994i PRO to support additional devices/scenes
Realtime clock on board
Supports Daylight Saving
Supports automatic sync with internet time sources (NTP)
Automatically calculation of Sunrise/Sunset times based on location
Remotely accessible from anywhere in the world and on any platform
Monitor, control, and configure your system remotely
Secure Web Server with certificate management (up to 2048 bits)
Automatically create port forwarding rules on your UPnP enabled router
Browser-based Java Applet or Java Web Start Application
Support for Windows, MAC, and Linux
Device Management
For easy monitoring, control and management Devices can be linked to the ISY using their INSTEON address or by pressing their SET buttons. Once linked to the ISY, devices can be monitored, controlled and managed through the ISY's built-in web server and Java-based Administrative Console
3rd party products are available to monitor and control your home from your iPhone, PC, Nokia touch panel, and more!
If you already have devices installed and programmed, the ISY can crawl your existing INSTEON network to automatically link discovered devices
Replace Device: seamlessly replace a defective device with a new one
Replace Modem: seamlessly replace a defective modem (PLM) with a new one
Restore Devices: simply restore your device to its correct settings if it is factory reset or has somehow lost its programming
Create folders/sub-folders to help organize your devices and scenes
Support for majority of INSTEON products
Scene Management
Supports up to 1024 devices/scenes (PRO models)
Use simple drag/drop to easily create scenes containing multiple devices
Create controller/responder relationships between all devices within the scene
Easily change scene attributes for each and every one of the devices within the scene
Once programmed, scenes operate completely independent of the ISY for the quickest response time and most reliable operation
Programs, Schedules, and Variables
Programs are easily created by simple mouse point and click
Create complex schedules using precise time, from/to, days, sunrise/sunset times, offsets, etc.
Create complex triggers based on the combination of schedules, any event (e.g. key press), and many other triggers
Use Variables to control the flow of programs
Complete support for Wait and Repeat constructs including Random values
Custom and user defined email and SMS Notifications to custom user groups
IR Control (IR Models Only)
Control all your INSTEON/X10 devices with any infrared universal remote (RC5-compatible)
Control other network-enabled devices using our optional Network Module (RS-232 devices can be controlled using an ELK IP232 or Global Cache GC-100 and more)
Non IR models can be field upgraded to IR platform
X10 Support
Built-in X10 support includes the use of programs to control your X10 devices using IR, schedules, or events from other INSTEON/X10 devices
Optional X10/A10 Module features enhanced X10 capabilities, including support for X10 devices in the device tree
Developer Friendly
Network Security
All ISY models boast high level of client/server security with support for TLS1.0/1.1/1.2, High Grade Cipher Suites, and Digital Certificate authentication.
Model Comparison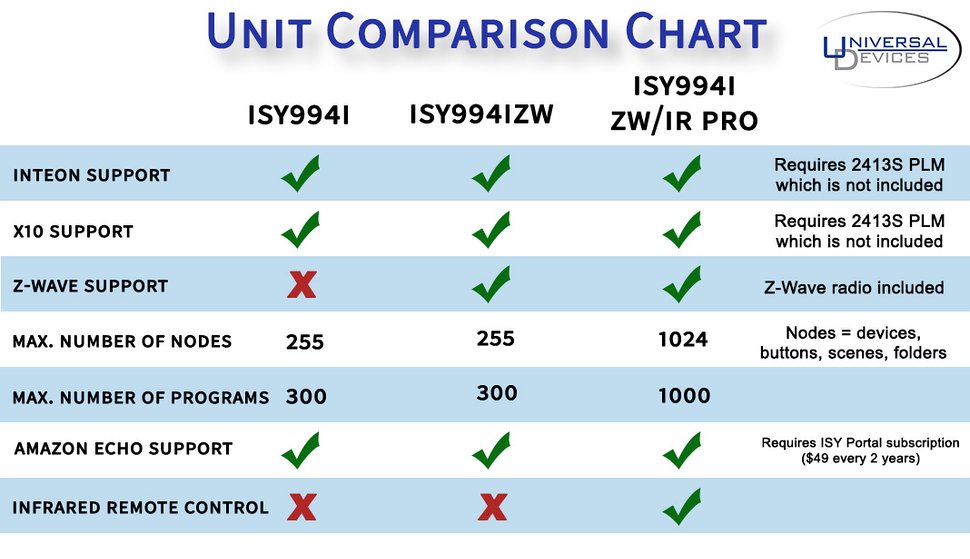 Important notes
ISY994i requires an INSTEON serial PLM (not included). PLM model numbers 2412S or 2413S are compatible with ISY and are available directly from Smarthome
ISY994i does not require a power supply when used with a PLM which supplies power via the RJ-45 port (for example, PLM model #2412S)
ISY994i does provide a port for an optional AC adapter for instances where the PLM does not supply power, or the user prefers to supply power independent of the PLM (for example, PLM model #2413S). ISY power supplies can be purchased from all our distributors and resellers