Save Energy, Save Money, and 
Save the Earth
Is Green?
Green refers to energy derived from renewable sources with a low environmental impact. The goal is to reduce harmful greenho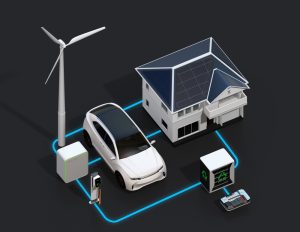 use gases. In residential and commercial context, usually, Green is associated with solar panels, electric vehicles, energy storage units, and wind turbines.
This said, with green comes other constraints that make mass adoption rather challenging:
1. Green energy is intermittent. e.g. during hot and windy summer days we may have excess energy and during cloudy days we may not have enough
2. Overgeneration/excess energy/reactive power is dangerous for the power grid
3. Green energy is still expensive. Without massive government subsidies, not everyone can afford going green
So, what's the solution?
What if the consumers and the utilities could dynamically, and in real time, negotiate their energy needs? For instance, during the hot summer days, the utilities could ask the consumers to use more energy to help alleviate overgeneration. And, during cloudy days, consumers would reduce their energy use and/or discharge their storage back into the grid.
The real time negotiations between the consumer and the utilities

requires a communications standard. That standard is OpenADR, and, we were one of the original editors for its specification. Also, ISY was one of the first certified products and currently the golden standard.
The real time negotiations between the consumers and the utilities addresses #1 and #2. But, what about #3?
Based on FERC ruling 745, saving energy (demand | response) is equal to generating energy (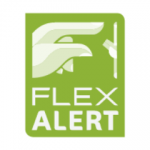 say from solar panels). In essence, those who don't have solar panels, EVs, wind turbines, or storage could still participate in the energy negotiations by either curbing or increasing their energy usage. It's immediately clear that you can do that with your fingers! As a matter of fact, Flex Alert logo and commercial are specifically about the power of your fingers!
This is indeed quite inexpensive but a little cumbersome and somewhat unpredictable: what if you are not there?
And, this is where IoT comes into the picture: with the ever ubiquity of low cost, off-the-shelf, and connected devices the whole process of negotiations between the utilities and the consumers can become fully automated. And, quite inexpensively.
ISY was specifically designed to seamlessly marry Energy Management, Automation, and IoT. And, ISY is your sidekick that helps you make sense of it all, save energy, save money, and save the earth.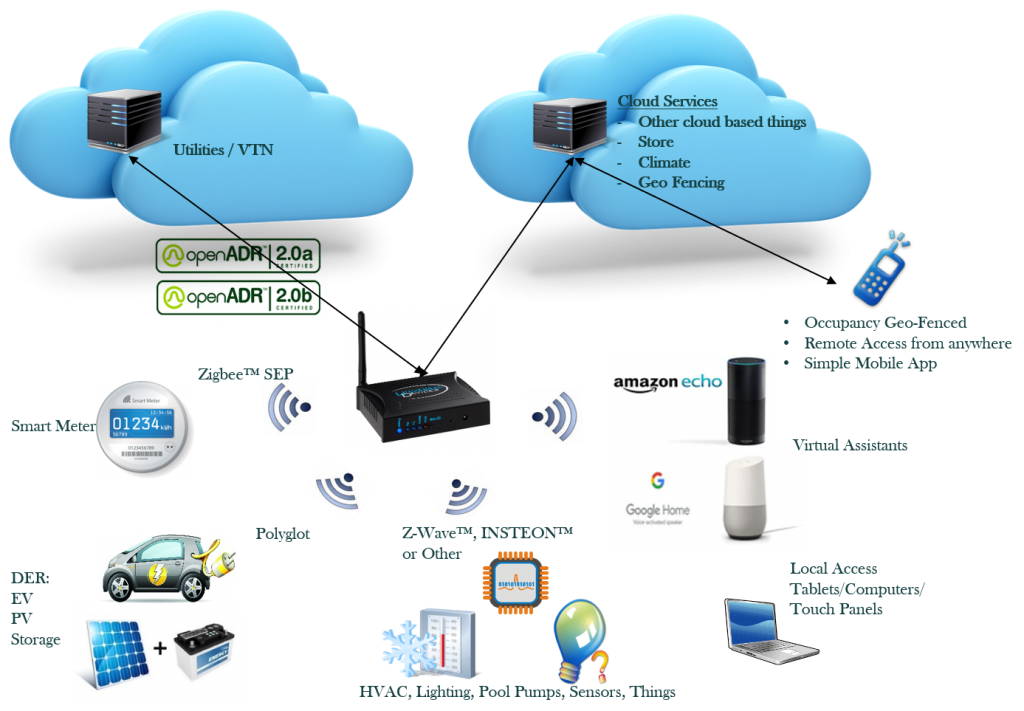 Retail Automated Transactive Energy System
We are so good at what we do that we even won a

grant from California Energy Commission. Not to mention that the latest revision of Title 24 in California mandates OpenADR certified devices for certification.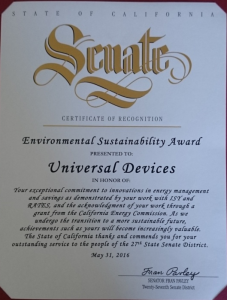 To top it all off, we have also been honored by the California Senate with the Environmental Sustainability Award.
Please take a look at the magnificent piece of architecture we designed, developed, and deployed called RATES (Retail Automated Transactive Energy System).
Learn more …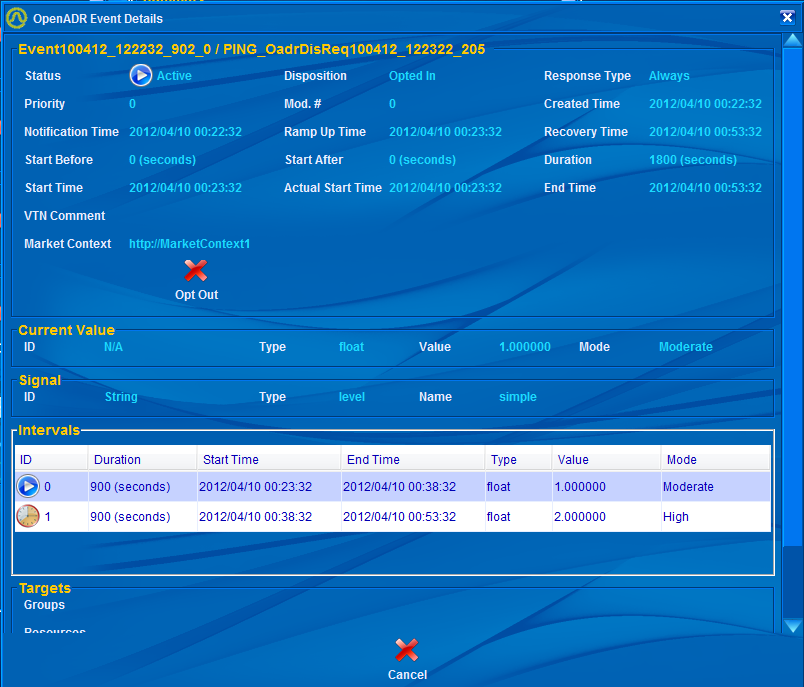 Easy access to all OpenADR settings and events. OpenADR events are readily availabe in ISY Programs and therefore allowing you to do anything your heart desires based on them. For developers and geeks, everything is also available thorugh Web Services and REST.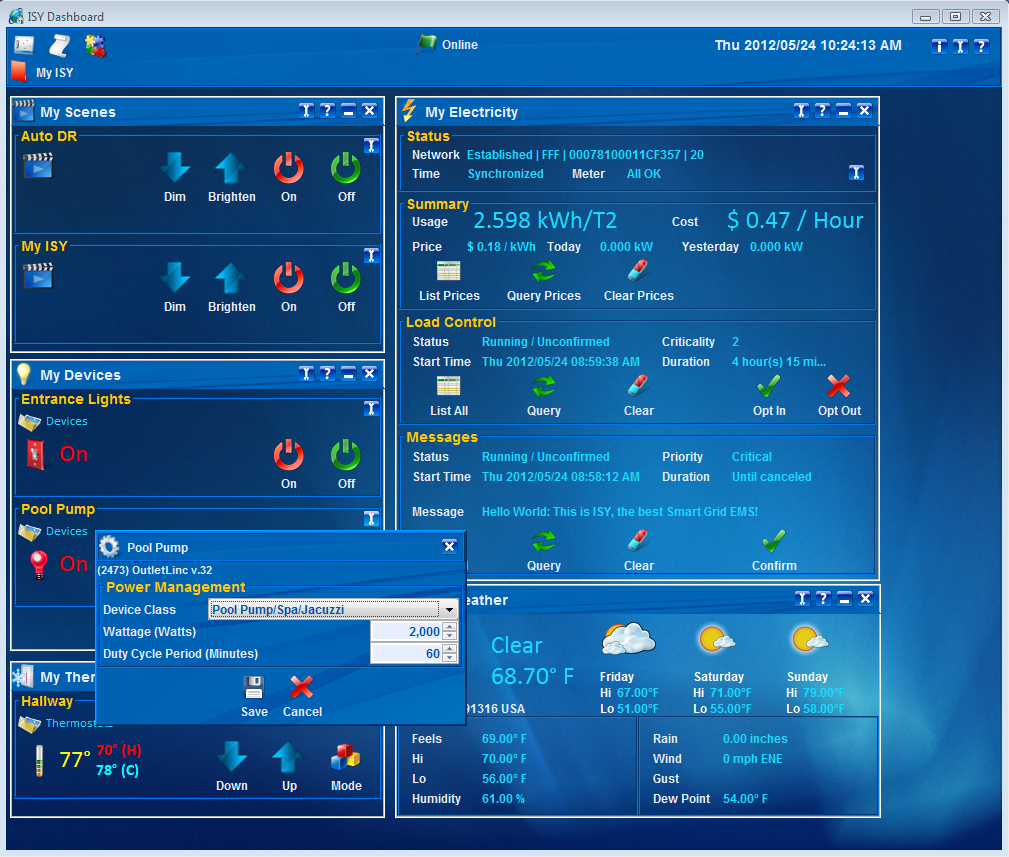 Yes, with ISY ZS Series you can also natively communicate with your Smart Meter. Smart Meters are extremly important for real time processing and decision making based on instantaneous demand.
@Your Fingertips
Unlimited Combination of Conditions (If)
– Event Driven | True Boolean Logic
– Time | Date | Recurrence
– Local Sunrise | Sunset with User Defined Offsets (Before | After)
– Device States | Occupancy | Temperature
– Electricity Price | Usage | Generation
– Variable Values | Climate | Security System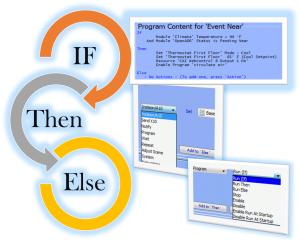 Unlimited Actions (Then | Else)
– Commands to Devices | Multi-Protocol Scenes
– Record | Playback Device States
– Custom Amazon Echo Voice Notifications
– Send Text | Email
– Trigger Program
– Set Variable Value | Timer | Repeat | Random
– Math Functions
Learn more …
Configurations
Yes, there are other use cases and configurations that must be supported. For instance – and especially in commercial venues – there might exist other building management systems. And, in some states, the only way to get energy information from the utility meter is through KYZ signaling. And, sometimes, you might want to install the system on a rooftops and thus have to measure the inside/outside temp.
We have gone through all these use cases and designed specific products to address these specific use cases.
EM3
ISY994 Embedded Inside OpenADR 2.0a/2.0b Certified
Can be extended with Zigbee or Z-Wave
4 Relay Outputs @5A
Up to 480V Balanced
5 Channels of Energy Monitoring +
2 Pulse Counters or 1 KYZ
2 Temperature Sensors
NEMA 4 Enclosure
ISY994Z
ISY994 OpenADR 2.0a/2.0b Certified
Integrates with limited set of Zigbee PRO devices
RCS Zigbee Thermostat (TZB45)
RCS Zigbee Load Controller (PMC40
Brultech Energy Monitors (GEM and ECM1240)
ISY994r
ISY994 OpenADR 2.0a/2.0b Certified
2 x 20 AMP dry contact relays
Used for venues with existing BMS systems. The relays are used to convey OpenADR signals to the BMS. The BMS then figures out what needs to be done based on those signals.
Of Sample Installations
Although 10s of thousands of ISY are out there helping saving earth, the following are a list of those we have been made aware of. Each slide also includes the use case and the product used.
ISY Into Your Products
Seamlessly integrate ISY into your products and immediately take advantage of all OpenADR, Smart Grid, and IoT features and capabilities. Support is guaranteed.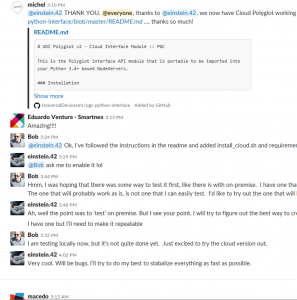 Learn more …
Still Not Convinced?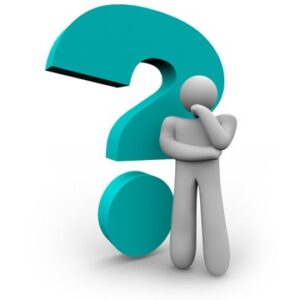 As our testimonials can attest, we truly believe we are nothing without our customers. So, please do not hesitate to contact us for any questions, suggestions, and comments. You won't be disappointed.
Contact us
Do you want to do more research on our products, features, and even ethics? No problem! Just hop over to our 9K+ member strong forum where you can view and participate in lively discussions of all things UD | ISY and some other geeky and interesting stuff.
UD Forum