UD Mobile Thrives On Nodes!
We developed UD Mobile from the ground up to not only integrate with your Z-Wave, INSTEON, X10 devices, but also to integrate with all your ISY's node servers. Yes! Using UD Mobile, you can now monitor and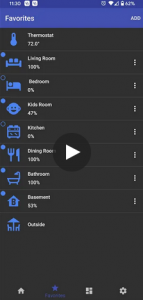 control your Ecobee, Hue, Ring, Tesla, Solar Edge, Sonos, Lutron, Harmony Hub, ELK, all the climate services, etc.
In addition, and thanks to our very active, enthusiastic, and ingenious developer community, we are now at 100 full featured Polys (Node Servers) including Lutron (Radio RA and Caseta), Camect, ELK, and many more climate services.
To celebrate, for a limited time, get 20% discount on Polisy and Polisy PRO.
Lutron
Whether you want to integration with Lutron Shades or contemplating an

d upgrade to a more professional lighting solution, this node server is for you. You can integrate pretty much any Lutron device/sensor limited only to your Lutron system (Radio RA vs. Caseta).
Say what? camect is an AI based, local and private camera recording and

monitoring hub. It can detect such things as people, faces, deliveries, insects, animals, wind, etc. With this node server, you can automate what should happen based on what the camect detects.
This very nice video by Steve Lee captures the essence.
ELK
This node server makes ELK zones, inputs, and outputs as native ISY nodes. Combine with camect, and make Fort Knox jealous!
Prerequisites:
20% Discount for Polisy and Polisy PRO
Please use coupon code Z9F44G4R at checkout. Expires on 01/31/2021.